Roasting a whole chicken can seem intimidating because we all typically buy specific cuts of chicken. Once I started roasting chicken, I realized how easy it was. You just need to cut up some veggies and place the chicken on top in a large baking dish and let the oven do all the work. The added bonus of roasting the whole chicken is, once the meat is all eaten, you have the bones to make a nice stock from. If you don't have time to make stock right away you can put them in the freezer for later. This recipe is super easy and we have made this a Sunday tradition.
---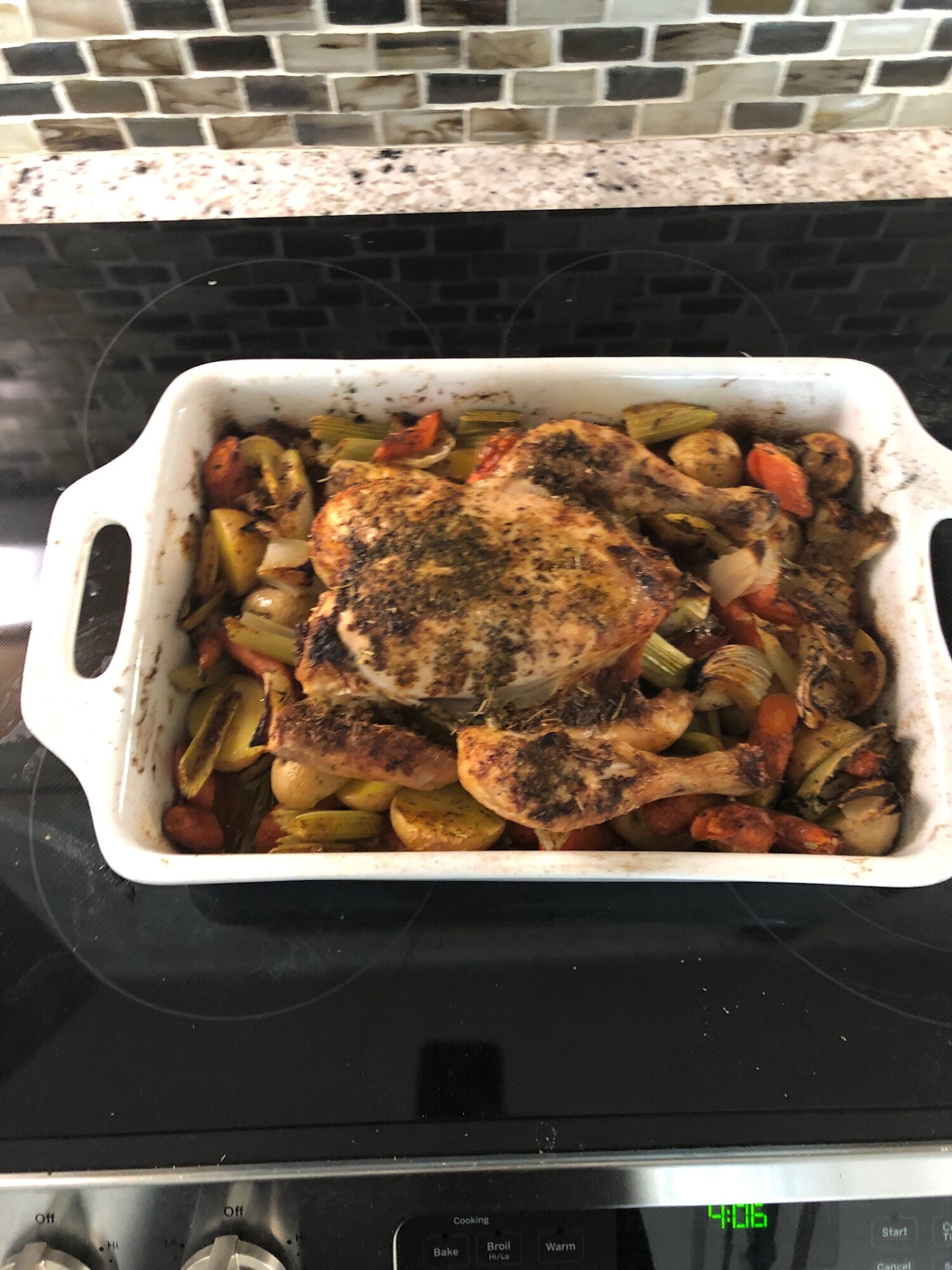 10
Small yellow or redskin potatoes
1
Preheat oven to 425 degrees
2
Rinse all veggies. Cut celery into 1in pieces. Cut Carrots into about 2in chunks. Cut potatoes into quarters. Cut onions into about 1in pieces. Place all the veggies into the baking dish.
3
Take chicken out of packaging and pat any excess liquid with paper towel. Place whole chicken on top of all of the veggies.
4
Take Ghee and warm it slightly so you can pour over the whole chicken and veggies
5
Take the Italian seasoning, garlic powder, paprika, and salt and pepper and cover liberally over chicken and vegetables
6
Place chicken and vegetables in the oven for about 60 minutes. Make sure you temp the chicken at at least 165 degrees before taking it out of the oven. (you can check the temperature by putting the thermometer
horizontally though the thickest piece of meat not touching the bone)
---
We are a participant in the Amazon Services LLC Associates Program, an affiliate advertising program designed to provide a means for us to earn fees by linking to Amazon.com and affiliated sites.