As an avid runner, I knew once I was pregnant I had to find all the right stuff to be able to have what I needed to keep running. Sometimes the gear can make all the difference in making exercise enjoyable or not.  When everything is comfortable and works for your needs you won't have to stop your workout early because of a faulty sports bra. I wanted to share my favorites that I have tried, tested and use currently as part of my running routine. Having all the right gear helps to keep me motivated and on track. 
Running Stroller
Deciding Between Two:
While there are many to choose from, I heard great things about the BOB brand running strollers so I decided to investigate what models they had to offer. I narrowed it down to two models that are very similar; the Revolution Pro and the Revolution Flex. The main difference is the Revolution Pro has a hand break and the Revolution Flex does not. They both have air filled tires with the ability to be used on trails or uneven surfaces. They have an extra-large UPF 50+ canopy to help protect from the elements. There's a mesh pocket on both sides where your kid sits, which is nice to put a toy or water.  This might not seem like a big deal but we use it all the time, to store little toys, their water, it keeps everything in a place. The seats are nicely padded with ventilation and allow for one hand adjustment from laying to upright sitting. They both have foot activated break, which I use all the time, you can even use while wearing flip flops. 
Stroller Stats
Then finally the stats: both allow up to 75lbs  with a maximum height of 44in. The Revolution Flex weighs 28.5lbs and the Revolution Pro weighs 30.5lb. So, they are certainly heavier than a typically stroller for walking which are around 20lbs. They are also kind of clunky and don't fold super flat. We don't transport the stroller often so that hasn't been a big deal. I ended up getting the Revolution Pro which has the hand break, because I thought it would be good to have that breaking option. I can tell you that I have never used that break, I live in a very flat area so there is really no need for it. So where you live or plan to go jogging can help decide which is the better choice. If you don't need the hand break, you can save some money and get the Revolution Flex. 
Sports Bra
Next and really the most important piece of gear is the perfect sports bra. I have tried countless and the Brooks Juno is my all time favorite. It is designed for high impact sports and to be full coverage. This one does not have underwire but is designed perfectly to keep everything secure. The sizing is by cup and band size, so I ended up getting different sizes for through out pregnancy and after. The Brooks Juno has excellent moisture wicking technology and adjustable cross back design. The other unintended bonus is the shoulder straps velcro back on itself to help for taking on and off, but this is a great feature for nursing. 
Water Bottle
To keep my water handy I use a non-toxic, stainless steel water bottle with sports top.  One perk of running with a stroller is you can put your gear in the console. So it's easy to bring your water with you. For the rest of the day I typically use a glass or stainless steel bottle. I was pumped to find this stainless steel bottle with sports cap by Klean Kanteen. The stainless steel bottle helps keep your water cold too. 
Heart Rate Monitor
I think it's great to monitor your heart rate. You want to have an idea of your max heart rate as well as a  comfortable (able to have a conversation pace). This way you are able to determine either how much to push yourself or to scale back, using heart rate versus just pace alone. Your heart rate will be dependent on how your body is feeling, if you had enough sleep or stress level can either raise or lower your heart rate. These and other factors can all play into what you are capable of doing that day.  It is also good to see how your body is doing if you are running and working out throughout  pregnancy. I've seen my heart rate be much higher during pregnancy at a pace or doing an activity I would typically find easy. Seeing my heart rate higher than usual  is just a good reminder to either take it easier or to take more breaks. Post pregnancy and beyond you can start to challenge yourself using your heart rate and do intervals at 80% of your max heart rate ( a level that would feel difficult to hold a conversation).  
Garmin Heart Rate Monitor
I love my Garmin Fenix 5S it tracks distance, pace and you can choose from different activities like strength, indoor cycle, pool swim etc. It tracks your training status as well to determine if you pushed yourself enough or even too much.  It will give an estimation for recovery time needed before the next workout. I use the Garmin app to check back at the stats from my workout. Its good motivation to have fun staying active.
Protective Sunwear
I've been a fan of visors for a while, since I wear my hair in a ponytail a lot. The Under Armor Renegade Visor is my favorite. Also running sunglasses are pretty important to protect your eyes. When you start to get sweaty the sunglasses made for running will have a grip on the nosepiece and by the ears to keep your glasses in place despite the bounce. My favorites are the Roka Phantom Ti which have a durable ultra light titanium frame at 20g, (for comparison Ray Ban aviator style sunglasses weigh 31g- 45g) and gecko grip technology to keep the nose and temple pads in place.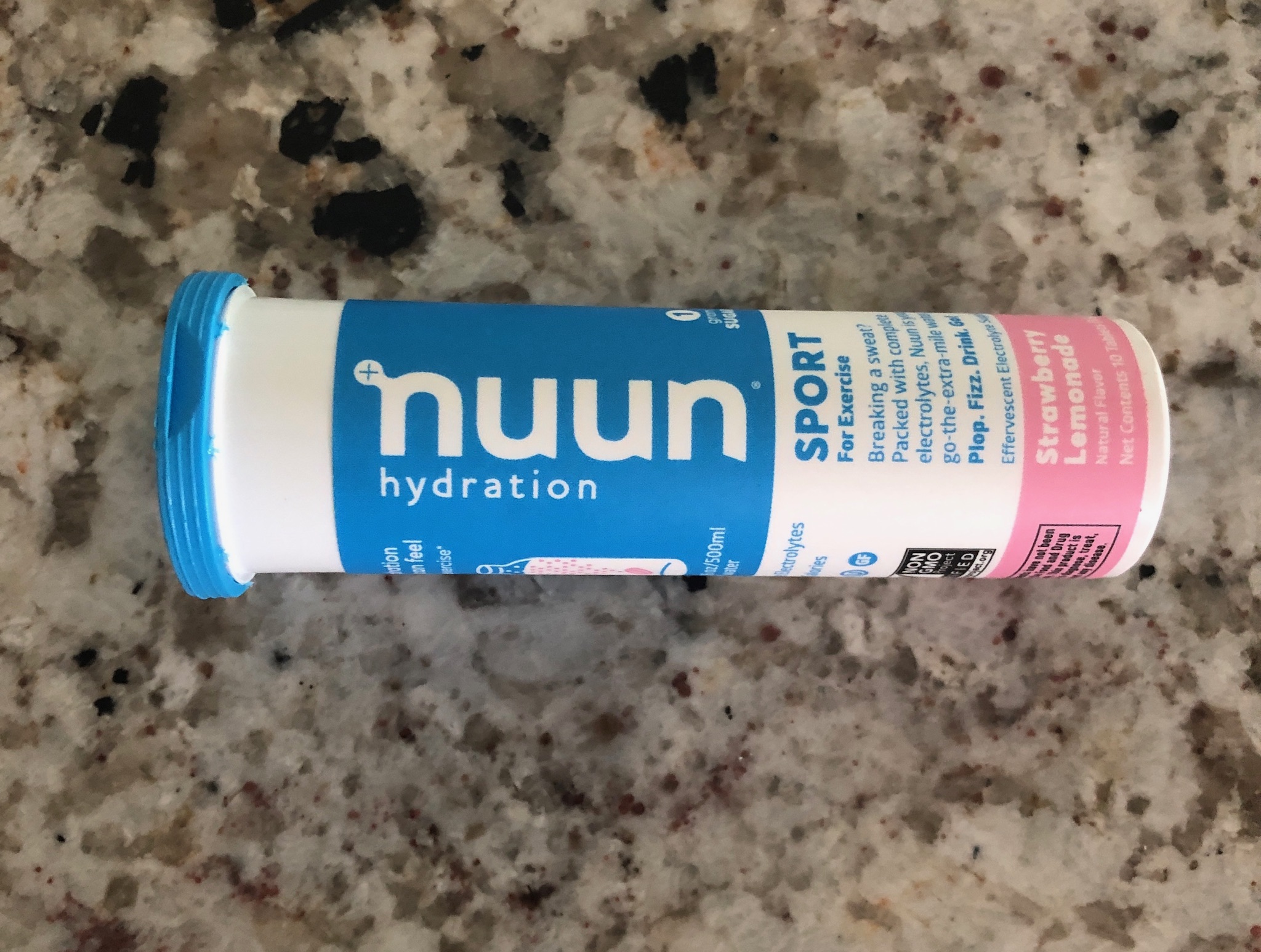 Electrolytes
Staying hydrated with water it excellent however, sometimes its not enough and thats where electrolytes come into play. Sodium, chloride, potassium and calcium are all types of electrolytes that work together to maintain fluid balance in the body at rest and during physical activity. When you sweat out electrolytes like sodium and potassium and they are not replaced you can experience things like: muscle fatigue, leg cramps, stomach cramps, side stitches and dizziness to name a few. I have certainly experienced calf cramps after running on hot days, so this is my cue to rehydrate with electrolytes.  To help give your body the minerals it needs and replace what you could be losing during exercise, add some electrolytes to your water.
These are my go-to electrolyte replacements, they are effervescent tabs that you add to your water. I like the strawberry lemonade and tri-berry flavors the best. Nuun tabs are naturally flavored, contain non-gmo ingredients and use fruit and vegetable powders for natural coloring. Nuun does not contain some of the harmful ingredients such as brominated vegetable oil, artificial colors,  flavorings and loads of sugars that electrolyte drinks like Gatorade use.
Hope my gear ideas help you stay on track and motivated to stay active. Enjoy your run!
We are a participant in the Amazon Services LLC Associates Program, an affiliate advertising program designed to provide a means for us to earn fees by linking to Amazon.com and affiliated sites.